Today I received in the mail a book that I ordered called, "A Theology of the Ordinary" by Julie Canlis. I purchased the book based on a recommendation from Donald Miller's Facebook page. I'm glad I made the purchase.
The book interests me because I've experienced so much of Christianity being about "doing big things for God" or making life decisions after an emotional worship service. Here are a few examples:
A Christian band published on their website (paraphrasing here) "we want to reach as many people as we can as fast as we can for the gospel."
Summer camps that I went to where groups of people made decisions to go back home and within two weeks had forgotten all about it.
Numerous revivals where people made decisions to follow God based on sensationalized sermons (if you died tonight…where would you go?) or dramas (typically a car crash) all done to get converts
This extraordinary, sensationlized, dramatic, superspiritualized Christianity was the driving force of my faith well into college. In the introduction of A Theology of Ordinary, Canlis helps us understand where this "hyped faith" originated. I won't go into it all here (you can read the book!), but basically preachers began to sensationalize sermons and call on people to "do great things for God" in order to get people to make decisions.
I started to notice that this type of Christianity just didn't make sense. I started to ask myself if this is really how God wanted me to live out the gospel. Does God really want me to evangelize the whole world and make my life all about that every single second of the day? Is God going to be mad if I don't evangelize every chance I get? What happens if I miss an opportunity? Why do I have to make life so extraordinary?
The burden to be extraordinary had crushed me (and I would say others I've observed). The desire to pray (and get major results), read Scripture (and understand so that others come to faith by the thousands), and live life so perfectly like Jesus (remember, everyone is watching your life so they can become a Christian too) put the heaviest weight upon me. Honestly, I saw how this weight slowed down and pressured other Christians to the point of spiritual/physical exhaustion.
Through this book, I hope to gain a deeper understanding of and love for the ordinary. Canlis offers a wise warning that this love of the ordinary does not mean that we become mediocre. Our goal is to be the best ordinary we can and that's enough.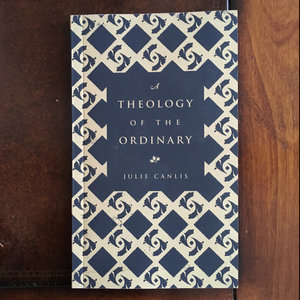 I'd love to hear from you. Do you struggle with setting your expectations too high because you want to be extraordinary or do great things for God? Do you think God is okay with ordinary? Are you okay with ordinary?